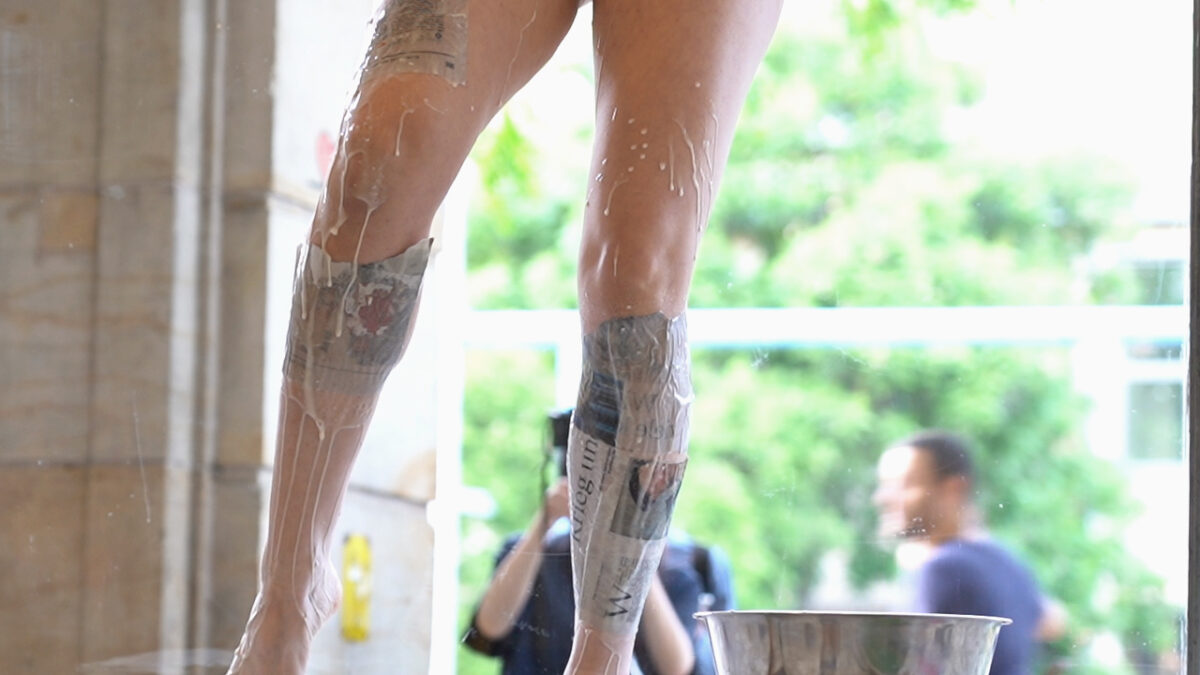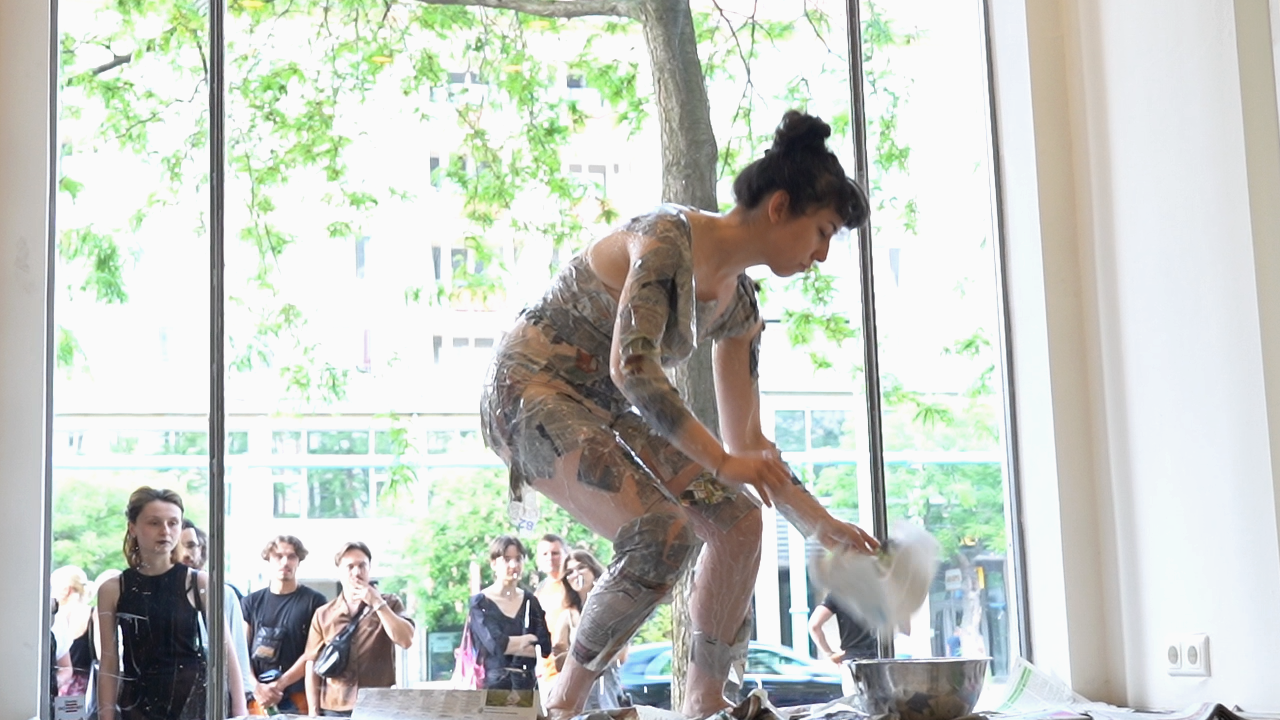 Video documentation by Charline Gdalia
performance, 21 min, weisse gasse, dresden, germany
(DE)
die medien sind ein organ, das mitten in unserem leben verankert ist und uns mit der welt in verbindung hält. tatsächlich erfahren die meisten von uns über die medien, was in der welt vor sich geht. doch entspricht das, was wir hören, dem, was wir sehen können? können wir der wahrheit näherkommen, ohne physisch präsent zu sein? die innen- und außenwelten, in denen wir innerhalb dieses etablierten systems leben, beeinflussen unsere sichtweise und unsere position im leben. informationen, die wir aufnehmen, ohne sie direkt erlebt oder mit unseren fünf sinnen bestätigt zu haben, führen zu unterschiedlichen reaktionen und überzeugungen und formen eine welt, die wir uns nicht selbst ausgesucht haben.
die welt in unserem geist unterwirft uns alle dem einfluss von situationen, in denen wir physisch nicht präsent sind. wie gehen wir mit den dingen um, die wir nicht sehen können? wie unterscheiden wir die fakten? wie reagiert unser körper, wenn fakten nicht klar zu unterscheiden sind?
in der suche nach antworten auf diese fragen untersucht die performance die beziehung zwischen dem körper und abstraktionen sowie die auswirkungen von wörtern und intonation auf den körper. die 21-minütige performance wird durch eine soundinstallation von präsentierten nachrichten begleitet.
(EN)
the media is an organ that is embedded in the midst of our lives, connecting us to the world. in fact, most of us learn about the world through the media. but does what we hear correspond to what we can see? can we approach the truth without being physically present? the inner and outer worlds within which we exist in this established system influence our perspective and our position in life. information that we absorb without experiencing it directly or confirming it with our five senses leads to various reactions and beliefs, shaping a world that we haven't chosen ourselves.
the world in our minds subjects all of us to the influence of situations where we are not physically present. how do we deal with things we cannot see? How do we distinguish the facts? how does our body react when facts are not clearly discernible?
in the quest for answers to these questions, the performance explores the relationship between the body and abstractions, as well as the effects of words and intonation on the body. the 21-minute performance is accompanied by an sound installation of presented news.
(TR)
medya, hayatımızın ortasında yer alan ve bizi dünya ile bağlantıda tutan bir organdır. aslında, çoğumuz dünyada neler olduğunu medya aracılığıyla öğreniriz. ancak duyduklarımız, gördüklerimize ne kadar uyar mı? fiziksel olarak orada olmadan gerçeğe daha da yaklaşabilir miyiz? içinde bulunduğumuz bu kurumsal sistem içindeki iç ve dış dünyalar, bakış açımızı ve yaşamdaki konumumuzu etkiler. doğrudan deneyimlemeden veya beş duyumuzla onaylamadan aldığımız bilgiler, farklı tepkilere ve inançlara yol açar ve kendimiz seçmediğimiz bir dünyayı şekillendirir.
zihnimizdeki dünya, fiziksel olarak bulunamayacağımız durumların etkisine tabi tutar bizi. göremediğimiz şeylerle nasıl başa çıkıyoruz? gerçekleri nasıl ayırt ediyoruz? gerçekler net bir şekilde ayırt edilemediğinde vücudumuz nasıl tepki verir?
bu sorulara cevap arayışında performans, beden ile soyut arasındaki ilişkiyi incelemekte ve kelimelerin ve tonlamaların beden üzerindeki etkilerini araştırmaktadır. 21 dakika sürecek olan bu performans, sunulan haberlerin bir ses kurulumu eşliğinde gerçekleşecektir.